.: Hotels in Paris - hotels near Champs-Elysees Opera Left Bank St-Germain, 5 star hotels, 4 star hotel, 3 star hotel, 2 star hotel :.
Search your hotel in Paris with more options...
Specials Offers.
Hotels by district.
Paris's districts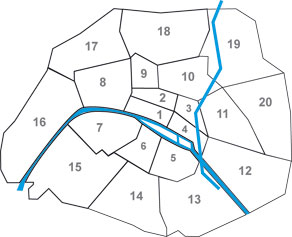 Select a district by clicking on the map...
Our Selection in Paris...
Luxury 5* star hotel Champs Elysées Paris

Napoleon Hotel Paris

Located just a short walk to the Arc de Triomphe and Champs-Elysees The Napoleon hotel offers individually designed rooms with modern comforts.

Hotel Napoleon Paris
Charming 3* star hotel on Left Bank Paris



Suède St Germain Hotel Paris

It is a short walking distance to Saint-Germain-des-Prés boulevard, the D'Orsay and Rodin Museums and the left Bank stores . With an inner garden and a view over a park, The Suede saint Germain Hotel invites you to stay in a very quiet atmosphere.

Hotel Suede Saint Germain Paris
Design 4* star hotel Saint-Germain Paris

La Belle Juliette


La Belle Juliette

is located in central Paris, a short walk from Saint-Germain-des-Pré. This Design hotel has an indoor swimming pool and Spa. It offers elegant and stylish rooms with free Wi-Fi.

La Belle Juliette Hotel Paris

Hotels in Paris near the Eiffel tower
Hotel du Cadran in Paris

This new hotel, near the Eiffel Tower and fully envisioned by the designer Olivier Gossart, is the first truly contemporary hotel in the 7th arrondissement.

From : 134 €

Hotel Carina Tour Eiffel in Paris

We are benefiting from an excellent position just a few minutes from the banks of the Seine, the Eiffel Tower and the Parc des Expositions (exhibition grounds) at the Porte de Versailles.

From : 95 €

Hotel Saint Dominique in Paris

The Saint Dominique Hotel, housed in a fully converted 18th century convent, between the Eiffel Tower and the Invalides, near the Champ de Mars gardens and the Alexander III bridge.

From : 60 €
Hotels in Paris near Champs Elysees
Hotels in Paris near Montmartre Sacré Coeur and Pigalle
Hotels in Paris near Opera Garnier
Hotels in Paris near the Louvre and the pyramid
Hotel Louvre bons enfants in Paris

Located in the heart of Paris, the hotel Louvre Bons Enfants enjoys a spectacular location, within a stone's throw of Le Musée du Louvre, Palais Royal and Jardins Des Tuileries.

From : 170 €

Hotel Washington Opera in Paris

Hotel Washington Opera Paris - 4* star Hotel Paris near the Louvre and Place Vendome.

A former private town house of Madame de Pompadour, the Hotel Washington Opera stands out because of its Louis ...

From : 130 €

Hotel Louvre Saint Romain in Paris

Hotel Louvre Saint Romain Paris - 3* star Hotel Paris near the Louvre and Chatelet.

The Louvre Saint Romain hotel is in an exceptional location in the very heart of Paris, just a stone's throw fro...

From : 99 €

Grand Hotel de Champagne in Paris

Grand Hotel de Champagne Paris - 3* star near Musée du Louvre Notre Dame.
Located near to the "Ile de la Cité" and from 10 minutes walking distance to the "Louvre", our hotel transport you in a r...

From : 106 €

Hotel Louvre Marsollier Opera in Paris

Hotel Louvre Marsollier Opera Paris - 3* star Hotel Paris near the Louvre and Place Vendome.

In the heart of historical Paris, close to the business district, department stores and some of the most...

From : 89 €
Hotels in Paris near the Latin Quarter Left Bank
Hotels in Paris Left Bank near St Germain des pres
Hotels in Paris near the Montparnasse area Left Bank
Hotels in Paris near the Marais district
Hotel Castex in Paris

This three star hotel is located right in the heart of the Marais. With its Louis XIII furniture and style, it has retained its 17th century character, the golden age of this district.

From : 150 €

Hotel Plat d'etain in Paris

Hotel Plat d'etain Paris - 3* star Hotel Paris near Le Marais and Beaubourg.

Located between the Marais and the Main Boulevards, the HPE welcomes you in a warm and friendly setting to ensure you th...

From : 58 €
Hotels in Paris near République aera
Regina Opera Hotel Paris

At the heart of the lively Grands Boulevards and Theatre district, the Hotel is a few stops away from the Opera, large department stores and is near the districts of République.

From : 69 €

Annexe Hotel in paris

Between Republique and the eastern railway stations, close to the Grand Boulevards, Marais, 10 minutes walk from the Opera House, few step by metro from the Champs-Elysees.

From : 50 €

Best Western Aulivia Opera Hotel Paris

The Hotel Aulivia Opéra is located in central Paris in the heart of the Theatre district and close to Gare du Nord station and the Republique district.

From : 69 €

Hotel Croix de Malte in Paris

Hotel Croix de Malte Paris - 2* star Hotel Paris near Oberkampf République.

A small hotel between République and Bastille, close to the Marais!

Welcome to the Hotel Croix de Malte! A haven of pe...

From : 60 €

Hotel Taylor in Paris

Hotel Taylor Paris - 2* star Hotel Paris near Republique.

Between the République and the Gares du Nord and de l'Est (North and East stations), close to the Grands Boulevards and le Marais, just 10...

From : 78 €
Hotels in Paris near Bastille and Gare de Lyon Station
Trianon Gare de Lyon Hotel Paris

The Trianon Hotel, located in Paris's 12th arrondissement, the new business location near the Palais Omnisports de Bercy and the Gare de Lyon,also close to the lively Bastille district.

From : 69 €

Lyon Bastille Hotel Paris

Located just a short walk from Gare de Lyon, the hotel's ideal location is sure to delight you, whether strolling to Place des Vosges, exploring the Marais, or immersing yourself Bastille district

From : 66 €

Hotel Grand Hotel Francais in Paris

Hotel Grand Hotel Français Paris - 3* star Hotel Paris near Bastille.

The Grand Hôtel Français is located at place de la Nation, one of Paris'major crossroads.
Nation is 5 minutes away from Basti...

From : 120 €

Hotel Grand Hotel Dore in Paris.

Hotel Grand Hotel Dore Paris - 3* star Hotel Paris near Daumesnil and Bastille.

For over a century, the Grand Hotel Dore Paris has been an ideal and pleasant haven in the heart of Paris for visitor...

From : 80 €

Hotel Helvetia in Paris

Hotel Helvetia Paris - 2* star Hotel Paris near Gare de Lyon.

The Hotel Helvetia is located very close to the Lyon train station, Bastille and Opera Bastille living area.
Bercy district is a few m...

From : 58 €
Hotels in Paris near the place d'Italie
Hotel la Manufacture in Paris

Hotel la Manufacture Paris - 3* star near the place d Italie.
Just 15min from Orly airport and only ten minutes from the train stations Montparnasse and Gare de Lyon, Hotel La Manufacture occupies a ...

From : 79 €
Hotels in Paris near La Defense
Hotel le Dauphin in Paris la Defense

Hotel le Dauphin Paris - 3* star Hotel Paris La Defense.

Near La Defense, 5 stations from Champs Elysées, The Dauphin hotel receives 24h/7 days.
You can go to the Louvre museum, the Orsay museum o...

From : 49 €
Paris hotels more languages :
Hotels in Paris by area :